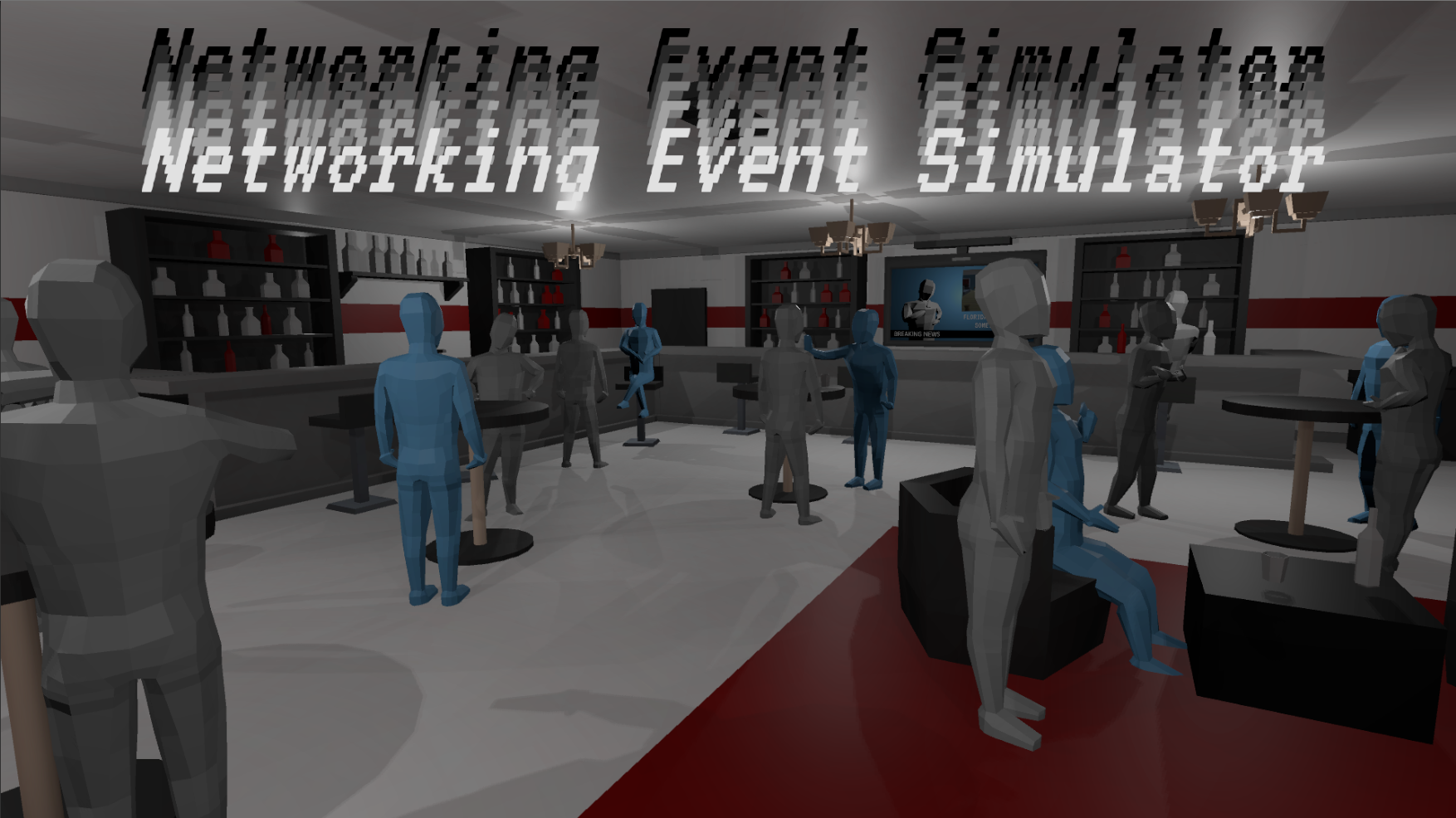 Networking Event Simulator
A downloadable game for Windows, macOS, and Linux
a comforTable environment to Help develop your core competencies and take a deep dive In to the next generation of Social interaction and strateGic interpersonal Alignment!
experience a gaMe-changing spEctrum of social capItal entrepreneurS and rub elbowS with some of the future's brigHtest conversatIonal innovators and disrupTors!
don't worry! if it's all too overwhelming, go stand in a corner and play games on your phone!
-FEATURING-
* NEXT GEN ANXIETY
* RELATIVELY SHORT TIME COMMITMENT
* MOTION CAPTURED AUDIO
* CUTTING EDGE, DYNAMIC CONVERSATIONS
* REAL-TIME PHONE PHYSICS
* AN EXTREME POTENTIAL TO MAXIMIZE YOUR EARNINGS
-CONTROLS-
W/A/S/D - Movement
TAB - Use phone
1/2/3 - Choose dialogue option
MOUSE - Look
LEFT MOUSE BUTTON - Contextual interaction
Music Credits:
Songs used from the YouTube Audio Library:
7th Floor Tango - Silent Partner
Decisions//Local Elevator - Kevin MacLeod (http://incompetech.com/)
Ecstasy_X - Audionautix (http://audionautix.com/)
Present Day - E's Jammy Jams
Great Hope - Vibe Mountain
| | |
| --- | --- |
| Status | Released |
| Platforms | Windows, macOS, Linux |
| Rating | |
| Author | corpsepile |
| Genre | Simulation, Adventure |
| Made with | Unity |
| Tags | 3D, anxiety, conversation, Experimental, First-Person, FPS, Short, Singleplayer, Unity |
| Average session | About a half-hour |
| Inputs | Keyboard, Mouse |
Install instructions
best to use mouse and not trackpad, but don't listen to me, what do i know
there is a text speed setting on your phone if you feel the default is too slow
also, windows and os x might give you a security warning because i'm an "unknown developer" (which is true) but i promise the only harm that will come from these files is to your opinion of me and/or the quality of my work
Download
Comments
Log in with itch.io to leave a comment.
This is one of the funniest games I have ever played.
worker: Welcome to S.H.I.T, how may i be of service?
me: What does your name mean?
worker: Super Henchmen In Thailand
me: Oh.
this is so funny. also sat there listening to that loop thru its entirety
Hilarious take on networking events and not too far from the truth in some cases. Made me laugh at several occasions with its different twists. Highly recommended!

This Game is Shit !!!!!!!
I GOT IT !!!
Awesome!!!
Very interesting and weird at the end. I enjoyed it!
Hey thanks for taking a look! There's actually a second part, once you hit the "blue" menu. :)
Dude awsome game !. That would be awsome if you can put more into the game i really like it. Hope you read this and hope you put more into a game really huge fan of it. My name is Leon Kennedy.Please read. It would be great if you told me the passcode xD. Btw how do we go to the second part?
Thanks Bye.
Thanks and glad you liked it! I might add more characters in the future. If you want to get to the second part, just be sure to check your phone again once you get to the "blue" menu. As for the PIN, it's in there somewhere. :)